Why PROFINET? And, Why Now?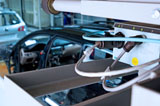 "Bandwidth." When asked what the major advantage of PROFINET over traditional Fieldbus technologies is for industrial automation, Carl Henning says it starts with bandwidth.
Henning is the Deputy Director of PROFIBUS & PROFINET International, an industry group dedicated to providing PROFIBUS and PROFINET education and training.
"Fieldbus has been around for 20 years, so it's nothing new," he adds. "Based on RS 485 it can move 244 bytes at up to 12 MBaud. PROFINET, on the other hand is Ethernet-based networking. It's less than a decade old and can move 1440 bytes of data at 200MBaud. So it can give you much more information at a much higher speed which can be really important in industrial applications."
PROFINET is an open Industrial Ethernet standard that uses TCP/IP and IT standards to provide real-time Ethernet communications all the way to the lowest level of the factory—the sensors, actuators, drives, switches and valves. Fieldbus refers to a set of industrial network protocols for real-time distributed control (now standardized as IEC 61158)... Read more
Delivering Plant Intelligence with Smart Motor Starters
The automated motor starter is quite possibly the most integral piece of any automated manufacturing set up.
Nothing moves without being turned on. This ubiquity makes it an ideal intelligence platform for factory control, performance management, safety, maintenance and all those other systems that promise more uptime, better efficiency and more profitability.
"Everyone in the plant is screaming for more information these days," says Matthew Thornton, a marketing manager with Siemens Industry, Inc. "Almost every machine, every device does something that you want to monitor, measure or control for one reason or another so you really want the ability to pull that data off all the critical devices and using smart motor starters is an excellent way to do that"... Read more

In from the Cold: Geothermal Energy is Making a Comeback
With all the interest in sustainable energy production and high gas prices, geothermal is on the bounce and new technologies are being introduced that make it very competitive and reliable.
Well-read science fiction fans are pretty familiar with geothermal energy production concepts. Geothermal is one of the most popular forms of energy production in sci-fi novels and stories, and many futuristic worlds are powered by tapping the virtually limitless heat inside the planet to generate energy, but there is nothing fantastical about the technology involved. In fact, geothermal energy has been around in one form or another since the days of Ancient Rome where hot springs were used to heat public baths like the one that gave Bath, England its name.
Geothermal was a popular energy source at the turn of the 20th century and remained so until cheap oil had a chilling effect on development following the Second World War, and while popularity peaked again during the energy crisis of the 70s it once again dropped off when that crisis ended and oil prices returned to previous levels... Read more
Video Tutorials: Multiple Controller Advanced Simulation
Part 2 - Multi-Instance capabilities of STEP7 PLC-SIM Software
Simulating Multiple Controllers with STEP7 PLC-SIM Software Learn how easy it is to simulate a Multiple Controller system and test your logic and configuration in Simulation mode. This is part two of a four part series showcasing the time and cost saving benefits of the STEP7 PLC-SIM software... View now