Realizing the Potential of Automation Integration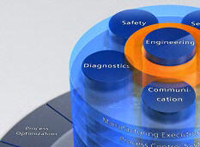 Integrating control systems used to be an ongoing exercise in jury-rigging bridges between islands of automation.
Different processes would have disparate controllers, often with disparate control logic packages leading to a near endless state of troubleshooting and massaging systems so they would get along. Every time you added a new system or piece of equipment you would have to revisit your integration efforts to make sure you hadn't compromised something.
"Even today, where we have access to fully networked systems and many vendors supply an end-to-end factory solution, lots and lots of industrial operations are actually a mishmash of different systems from different vendors using a variety of applications that are forced to work together," says Eric Kaczor, a marketing manager with Siemens Industry... Read more
Building a Cyber Secure Plant
Despite what many automation professionals believe, the Stuxnet malware attacks on Siemens Simatic WinCC SCADA and PCS7 DCS systems that came to light this past July were not the first time industrial control systems have been targeted by hackers.
A quick scan through the RISI database (Repository of Industrial Security Incidents) turns up several such attacks that have not garnered the same kind of attention earned by Stuxnet.
For example, with Venezuela devastated by a politically motivated general strike that lasted three months during the winter of 2002/2003, numerous acts of sabotage targeted the SCADA system responsible for loading oil tankers at a major marine terminal. In one such attack, PLC code was erased, causing an eight hour delay loading tankers. The lack of profile earned by incidents like this one isn't surprising, says Eric Byers, security expert and CTO of Byres Security. People who have been hacked don't exactly like to talk about it. After all, why would you want to give hackers more information than they already have?
IP Ratings—What Are They And What Do They Mean?
Electrical cabinets are one of those ubiquitous elements in industrial environments.
It doesn't matter what industry you are in—whether it's discrete, process , utility, building and construction or even commercial retail—everything needs power. That means cables and relays carrying what may be a dangerous amount of electricity that need to be protected from the elements and environment on one side and people that need to be protected from accidental exposure on the other.
The consequences of such accidental exposure can be tragic. According to statistics collected and published by Capelli-Schellpfeffer, Inc., electrical accidents called arc flashes kill one or two people in the United States every day. Many more are injured and then there is the cost of damaged equipment and lost production to consider. Numerous standards have been devised to reduce the frequency of such accidents and make industrial environments as safe as possible. These standards govern every aspect of equipment and procedures used for managing electricity. For example, IEC 60529 classifies the level of protection provided against accidental contact with live electrical parts and the intrusion of solid objects (including tools and body parts like hands and fingers), dust, and water in electrical enclosures.
However, there is more to adhering to safety standards than including them as requirements in an RFP. You have to know what they mean so you can select the right equipment for the right task and enforce their use. And that can be a challenge as you have to understand what the different ratings mean and how they are applied in your particular environment. In the case of IEC 60529 the grading is called an IP rating... Read more